---
As last year Altreonic will be exhibiting at the Embedded World exhibition and conference. Highlights are:
OpenComRTOS 1.4 suite with unique support for distributed priority inheritance with resource management and the integrated Safe Virtual Machine for C.
OpenCookBook v.2 in preview
StarFish scalable and SIL3/4 capable controllers.
Besides integrated software tools and hardware controllers, Altreonic offers its expertise to customers looking for innovative solutions, in particular in the domain of low power and smart distributed or fault tolerant control.
Altreonic is also presenting at the Embedded World conference on Tuesday, March 1 at 1400. Dr Bernhard Sputh will present in session 05 (RTOS II) the paper "A safe virtual machine for C in less than 3 Kbytes". A preview of the paper and the presentation is available from our website.
Altreonic is new releasing v.1.4 of its breakthrough formally developed network-centric OpenComRTOS suite. While the visual development environment was enhanced to make multi-processor developments even easier, v. 1.4 now has the Safe Virtual Machine (SVM) for C fully integrated and the RTOS itself has now fully distributed support for priority inheritance for easier resource management. The latter is a pre-condition for lower power consumption and better predictable real-time behaviour at the application level.

Missed Electronica-2010 and you were looking for enabling technology for embedded systems?
Altreonic has solutions that might also work for you:
a common sense systems and software engineering approach to embedded systems

an integrated real-time and concurrent software development environment

a formally developed network-centric RTOS that can handle large heterogeneous targets in 5 KiBytes/node

controllers that can be scalable as well as fault tolerant.
Here's your chance to catch up:
Order the OpenComRTOS suite v. 1.4 for ARM-M3 and Win32 before 31.12.2010 at a special price of 9990 euro and get a Luminary ARM development kit for free. This is our latest release and an ideal way to experience how easy parallel concurrent real-time programming can be. Take one of the supplied examples, modify it or just remap some of the tasks to another node with no source code changes. The visual modelling environment and its code generators make even programming the C code very straightforward. Contact us at info.request (@) altreonic.com for more details.

Download our presentation on "Concurrent systems composing in a reliable and efficient way".

Abstract: Push button high reliability might sound like a clever marketing slogan, but at Altreonic we make it happen. The key to it is combining a long experience with a formalised approach. This allows us to make systems smaller, more reliable and thus better. It is a formalised process that works because the human side has been taken into account. Unified semantics is hence one of the expressions you will often hear at Altreonic. The result is that safety engineering is now within reach of small and medium sized companies.
Download the presentation here.
Access the full presentation here (30 minutes).
Or have a look at a 3 minutes video interview by ICC Media. See it here.
For which application domains does Altreonic's technology make a difference? We highlight the main ones:
Ultra low power applications. Code size matters.

Distributed sensing and control. Because OpenComRTOS is concurrent at the core.

Scalable processing system. Because OpenComRTOS disassociates topology from the application.

Fault tolerant processing. Because redundancy is natural for OpenComRTOS.
Feel free to visit our website at www.altreonic.com for more details or download the Windows version of the OpenComRTOS suite for free. Learn how concurrent, parallel real-time programming can be more natural than shared memory sequential or multi-threaded programming.
Interested? Contact us at info.request (@) altreonic.com or register for our newsletter.
Altreonic is now looking for partners world-wide.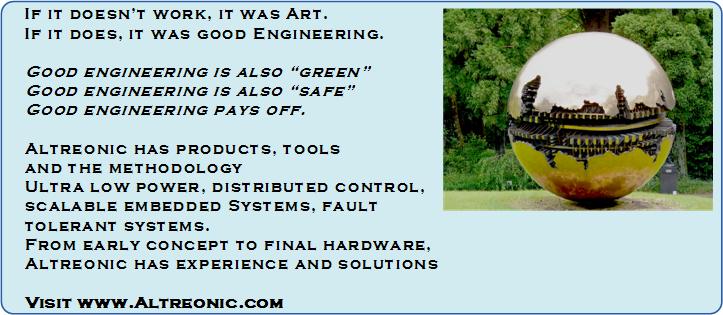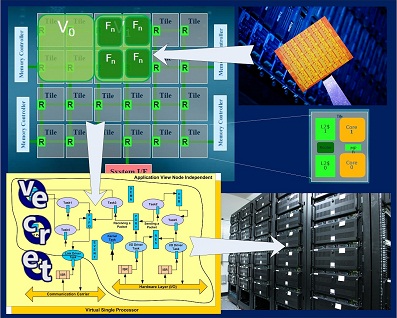 Altreonic has signed an agreement with Intel Labs to port its multicore capable OpenComRTOS to the Single-chip Cloud Computer (SCC) experimental processor, a 48-core 'concept vehicle' created by Intel Labs as a platform for many-core software research. It incorporates technologies intended to scale multi-core processors to 100 cores and beyond, such as an on-chip network, advanced power management technologies and support for "message-passing."
Programming parallel systems with many processor cores has been at the core of Altreonic's technology for many years and hence it was natural for Altreonic to join in the effort as it already has proven technology.
Altreonic is now announcing two new products that clearly demonstrate how a formalized development can result in more scalability and less energy consumption. First we present our brand-new Safe Virtual Machine for C in just 3.8 KB. Next we present a port to the ultra low power CoolFlux DSP core of NXP. Formalized development is more than verifying correctness, it actually results in cleaner, more efficient and more scalable architectures.
Altreonic will present at Intel's ERIC 2010 conference in Braunschweig, Germany under the title "Ubiquitous computing with a unifying programming model", fitting well in one of the focus areas: many-core / parallel processing.
The conference takes place from 21st till 22nd September 2010. For details and registration visit Intel's web site.
SoC is an annual symposium held at Tampere, Finland - The SoC City. It builds on the tradition of a series of SoC events organized annually since 1999. The mission of SoC is to provide a forum that is fully and comprehensively dedicated to SoC issues.
Altreonic will present at the Tutorial on Dependable Hardware and Software for Embedded Computing Platforms as invited speaker and at the tutorial:
Tuesday, Sept 28, 2010
11:00 Formal Development vs. Formal Verification - The OpenComRTOS Example. E. Verhulst, Altreonic,
13:30 An Architecture for Scalable Concurrent Embedded Software. E. Verhulst, Altreonic.
and as invited guest speaker on the conference (29 Sept) with as subject "Present and future challenges in developing a manycore RTOS"
More information on the SoC event is available at the SoC website
Altreonic will be speaking at the 9th International Conference and Workshop on Ambient Intelligence and Embedded Systems (AmiEs-2010) Friday 1st October with as title "An integrated and formalised systems engineering methodology with integrated tools for embedded applications.
See the conference website for more details and registration.
The Second International Conference on Advances in System Testing and Validation Lifecycle will take place August 22-27, 2010 in Nice, France. Altreonic presents its results from the ITEA EVOLVE project under the title "Interacting Entities Modelling Methodology for Robust Systems Design" on Tuesday, August 24. See attached paper.